Google+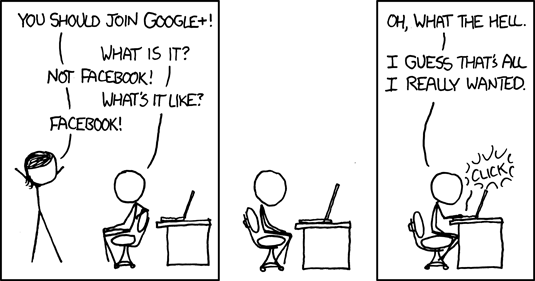 You may have heard a little bit of buzz about Google+ in recent weeks.
What is Google+?
Google+ is Google's latest attempt to establish itself on the social networking scene (where Facebook and Twitter currently dominate). It has many features and is a little hard to sum up in a sentence or two.
Check out Google's blog post announcing the project or Social Media Examiner's post, "How to Get Started With Google+, Your Complete Guide" for video and feature descriptions.
Initially Google+ was open by invitation-only.  It appears it may now be open to anyone with a Google account.
Do you need to rush out and establish a presence for your library in Google+?
"Not right now", says Google.
"Google is asking businesses, nonprofit groups, universities and other organizations and groups to stay out of Google+ -- for now," saying that their engineers are building a "similarly optimized buiness experience for Google+."  Take a look at this article from the LA Times for more info.
Thoughts on Google+
Have you tried Google+?  What do you think?